Purchasing Tickets
Online
On-Line (tickets.southernct.edu) VISA and MasterCard are accepted.
Most events Price tickets can be Select performances and purchase tickets
You must create an online patron account, or create a new one. You will need an email address to create an online account. The tickets that are purchased on-line can be printed at the box office and held at will call, mailed to your home, or for most performances printed at home on your own printer and scanned in at the theater the night of the show.
By Phone
Call 203-392-6154 - VISA and MasterCard are accepted.
Speak with a Box office staff member to assist you with your purchase Monday through Friday, 11:00 a.m. to 5:00 p.m. at 203-392-6154
Fees: All online and phone orders are subject to per ticket fees at the time of purchase and will be immediately confirmed via e-mail. If you do not receive a confirmation e-mail with your order number, please call 203-392-6154 if you need assistance.
In Person
VISA and MasterCard, Cash, Check and Hoot Loot are accepted.
The Lyman Center Box Office is located in the lobby.
501 Crescent Street, New Haven, CT 06515.
Monday through Friday 11:00 a.m. to 5:00 p.m.
or one hour prior to the performance at the performance's venue
---
Delivery Options
Will Call
Tickets held at Will Call can be picked up at the Box Office Sales window up until the day of the performance. If tickets are not picked up prior to the performance, they will be available at the event one hour prior to the start of the show. To claim tickets being held at will call, please present your photo ID and confirmation number to the staff on duty at the WILL CALL windows.
Mail Delivery
Tickets that are selected to be mailed will be processed and mailed out he following business day. Delivery takes between 5 and 7 business days.
Print At Home Delivery
Tickets can be printed on regular paper from your computer and scanned at the Lyman Center Lobby desk for admission to the Theatre.
All tickets purchased are final. There are no cancellations exchanges or refunds. Tickets must be paid in full at the time of purchase, and no unpaid seat reservations will be held.
---
Student and Faculty Discounts for Events
Many events sponsored by university organizations feature low or discounted ticket prices. Southern students and faculty can take advantage of these discounts by presenting a valid SCSU ID (Hoot Loot) at the box office. Discounted tickets are usually limited to one per student, depending on the presenter. The box office does not always sell tickets for all events held in Lyman Center. Please call the box office for specific ticket and performance information. Discounted tickets for faculty, staff, and students are subject to ID verification and must be picked in person with your university ID at the box office.
---
Important Information
Patrons arriving late will be seated at the house manager's discretion. Some performances may restrict late seating.
Program and artists are subject to change without notice.
Tickets for sold-out performances may be available at the door on a first come basis, but are not guaranteed.
---
Seating Chart
View the full Lyman Center seating chart (pdf).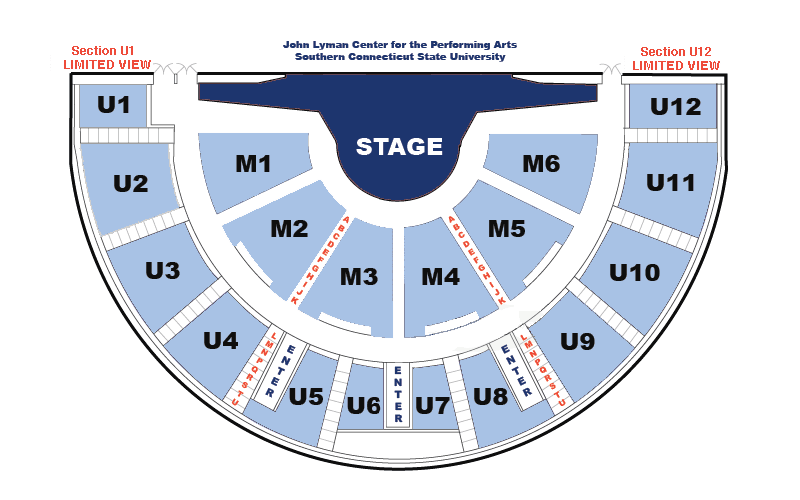 Box Office Hours
Monday - Friday: 11:00 a.m. to 5:00 p.m.
and at least one hour prior to the performance start time.
(203) 392-6154
Parking
The Center has two large parking lots around the building. When classes are not in session, parking is available on a first-come, first-served basis.
Handicapped Accessibility and Special Seating
The facility has wheelchair ramps, automatic doors, and an elevator that provide improved access to events held in the Center. There is also hearing augmentation equipment available from the front desk in the Lobby for use by any hearing impaired guest.
Lyman Center provides specifically designated wheelchair accessible seating that is reserved for those needing such accommodations. These seats are available through all sales channels while they last.
You may request accessible seating with an usher for general admission events, If you prefer you may make these arrangements in advance, please call 203-392-6154.